New Heiden Dual Pole Grapple Provides Operators Greater Control and Stability
Heiden Crane Attachments, Inc. is pleased to announce the launch of an innovative new product, the HC60-DP Dual Pole Grapple. Created for operators laying gas or oil pipelines or those responsible for moving long, unwieldy poles, this unique new attachment features two sets of jaws connected by a central beam.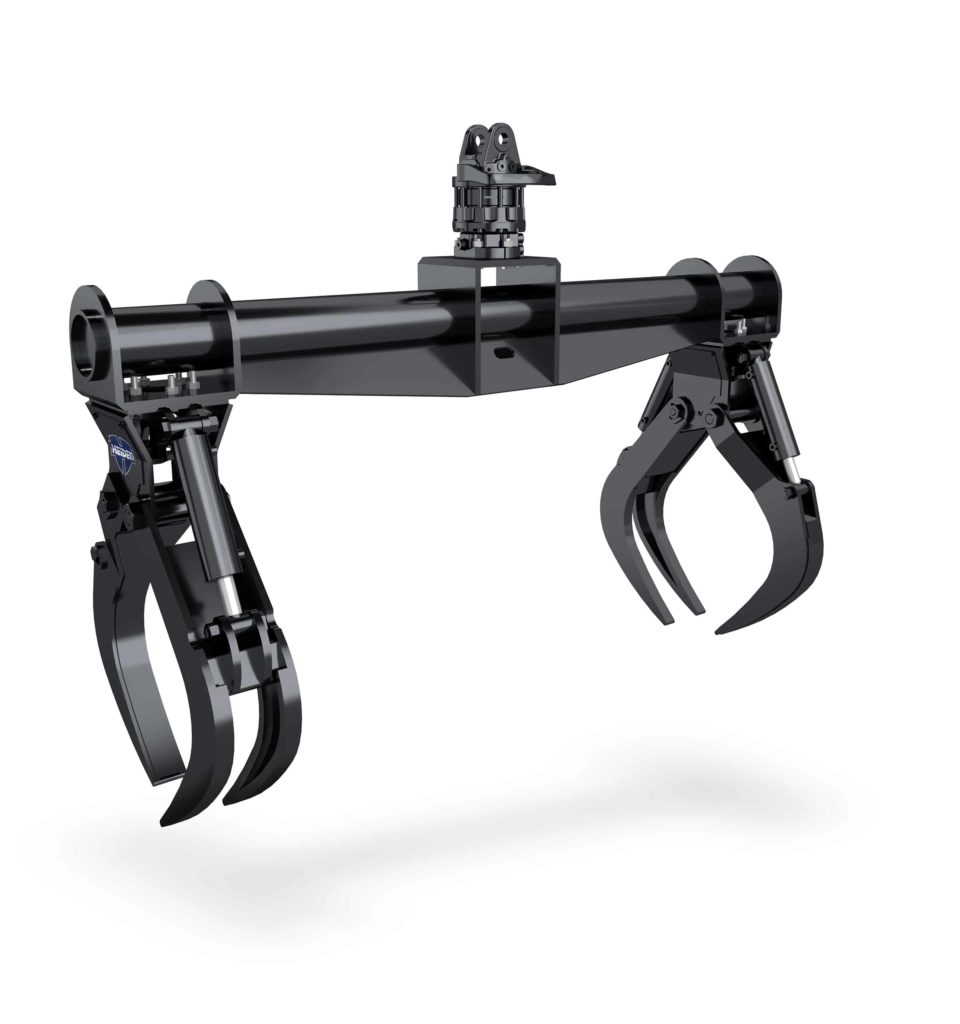 Operators know how frustrating it can be to control a long pole or section of pipe with a traditional single grapple. With Heiden's new dual grapple, operators can quickly and easily pick up and place long poles or sections of pipe. The dual grapples provide exceptional stability and control, allowing operators to work faster, and safer. Crude, antiquated and unsafe "solutions" are a thing of the past with the Heiden dual pole grapple.
Proven Design
Each of the grapples used in the new Dual Pole Grapple utilize our proven grapple designs.  Featuring bypass jaws, this new product is suitable for picking up a variety of sizes of pipes or poles with ease. Have different requirements? This unit can accommodate virtually any Heiden grapple.
Flexible
Both grapples are plumbed in the same line so they work independently—and each grapple can be taken off and used individually (use just one grapple for short items). Thanks to Heiden's interchangeable design, they can be used on different pieces of equipment. This is especially great for remote locations: if a single grapple breaks down on another piece of equipment, you can sub one of these, reducing downtime and lost productivity.
Free-Swinging Design
Unlike other fixed-mount grapples, the Heiden Dual Pole Grapple utilizes a free-swinging design, making it suitable for applications that require greater flexibility or range of movement. Use it on excavators and even backhoes.
Non-Marring Surface
The grapples are coated in Ultra–High-Molecular-Weight Polyethylene to help protect the materials they're moving.  After heavy wear and tear, this can easily be replaced to provide continued protection.
Benefits
Poles and pipes are easier to pick up
Greater control allows for better, faster, more accurate maneuverability and placement
Improved operator and field safety
In the event other equipment breaks down, one of the grapples can be substituted, improving redundancy and decreasing down-time
Order Now
One customer has already taken delivery of the new Dual Pole Grapple, and are putting it to work on the pipelines in Canada. They like it so much, they've already ordered more. Heiden Dual Pole Grapples are available to order from a dealer near you; don't wait—order yours today.